An romance episode story about the mafia, falling in love and family. Currently 54 episodes are published in INK and 56 in Limelight.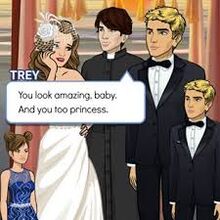 General plot
Edit
Chain Reaction is a episode story which is written in Ink and also recently adapted into Limelight. All they do is have sex and trey has a building which looks a bonded so that any rivals do go in it. It is amazing and sad and everyone should read it, as well as the just an illusion stories.
Popularity
Edit
Chain Reaction is extremely popular with episode readers and is arguably one of the best episode stories ever written. Many compare it with classics such as Campus Crush or Real Hollywood. It has over 80 million reads and ranks highly in trending. It also has two episode featured stories as sequels, and a popular User stories spin off series, It's Just An Illusion which she is currently writing the last instalment of.
About the Author
Edit
Miss Mji, the author is a very popular author and has many Instagram and Episode profile followers as well as a outstanding amount of readers. As well as writing Chain Reaction, she has written many spin off series of the book, episode offical stories and another story, Intoxicating Kisses which is also very popular.
Characters
Edit
The main character, Callie is not customisable which is seen as a good thing and a bad thing. However readers may pick hairstyles, outfits and sometimes makeup for her. Callie's character is sassy but sweet and caring. She is also a prominent mother to her children. Her love interest, Trey is the leader of a mafia, the bronze dragons. Readers may choose from a rugged look and a youthful look for him. His character is ruthless, fearless but kind. There are also many other major and minor characters throughout the story such as Detroit, Hunter, Julie, Dima, Sofia, Luca, Theo, Clegg and others, although Sofia and Theos story is next and you HAVE to read it. Same with its just an illusion and taste the darkness, + they are ALL CONNECTED!!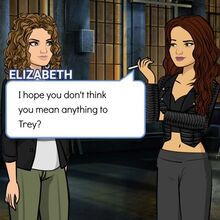 Hell no, god forbid anyone might crack a joke in the bailey residence!
~Callie, talking to Trey
God, I love you!
~Trey, talking to Callie
Community content is available under
CC-BY-SA
unless otherwise noted.