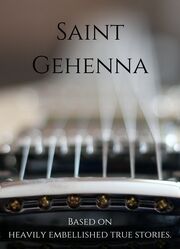 Saint Gehenna 
is a dramedy/dark comedy written by David Runk. The story's style is heavily rooted in witty and sometimes offensive dialogue and has admittedly taken lots of inspiration from titles like 
Californication
, 
Archer
, and
Grand Theft Auto V
.
Saint Gehenna revolves around a set group of characters and does not feature a single customizable avatar at this point.
Saint Gehenna follows the misadventures of a five-piece rock band in the fictional city of Saint Joseph.
Characters
Edit
Major characters
Edit
Martin Wall - The somewhat naive, 19 year-old bassist of Saint Gehenna.
Neil Romanov - The foul-mouthed lead guitarist of Saint Gehenna with a tendency of getting himself into trouble.
Nathan Cross -  A freelance reporter and the lead singer of Saint Gehenna, Nathan is in his mid-to-late 20's.
Patrick Bates - The uptight drummer of Saint Gehenna is also an attorney. He's in his 30's, is the oldest and arguably the sanest member of the band.
Eifram Mulqvist - The owner of Mulqvist Management and a record label called Satan's Empire loaded with sociopathic tendencies.
John Ellis - The quiet, nerdy keyboardist of Saint Gehenna. He tends to act as the band's de facto mediator to balance out the more extreme personalities of his bandmates.
Elin Mulqvist - The spoiled teenage daughter of Eifram Mulqvist who shares her father's unique sense of morality.
Robert "Robbie" Jensen - A washed up rock producer who suffers from a severe case of drug and alcohol addiction.
Mindy Blake - Martin's sassy 24 year-old love interest. She's also a hairdresser.
Minor characters
Edit
Stevie Jones - Your average rich kid. Has a big house in Sunset Peak, one of the nicer parts of Saint John.
David Runk - Eifram Mulqvist's assistant. He's a failed Hollywood agent in his mid-30's with a tendency to come up with a pitch for everything.
Marlon Bundy - A shock rock musician who used to be really popular. Also a drug addict.
Benny Karstein - A multitalented Rock musician and Submachine magazine's Platinum Idol of 2018.
Britney Shields - A pop star who refuses to admit that her moments in the spotlight are fading.
Episodes
Edit
Season 1
Edit
Due to a five-month production hiatus, there won't be any promises regarding episode air dates.
| No. in series | No. in season | Title | Release date |
| --- | --- | --- | --- |
| #1 | #1 | Pilot | 21. Feb. 2018 |
| #2 | #2 | Skills in Pills | 21. Feb. 2018 |
| #3 | #3 | Lock up your Daughters | 21. Feb. 2018 |
| #4 | #4 | Beneath Carpets of Crimson | 21. Feb. 2018 |
| #5 | #5 | ...Baby one more Time... | 27. Feb. 2018 |
| #6 | #6 | Pros and Cons in Sequence | 2018 |
| #7 | #7 | TBA | TBA |
| #7 | #7 | TBA | TBA |
| #8 | #8 | TBA | TBA |
| #9 | #9 | TBA | TBA |
| #10 | #10 | TBA | TBA |