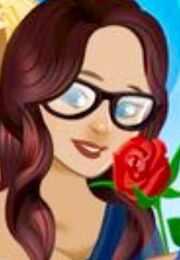 Toronto Hale is the main character of Brother My Brother, the story and character is created by Judith Light.
Background Story
At the beginning of the story, Toronto ends her relationship with her boyfriend Glen because she caught him with other girl. Her best friend, Lydia, or "Liddie", offers to see a Aiden Erendale movie with his clan buddy Tyrone. When she got home, she recieved a text from Liddie to turn on the TV. Following what her friend said, she saw that Ashley Erendale, Aiden's mom and her dad will get married. Shocked, she realized she will have the actor Aiden Erendale as her stepbrother.
Personality
Originally, Toronto was unruly and rebellious against her parents and her friends, especially when she became friends with the wrong crowd of druggies in high school. However, she turned her life around after a wake up call. Toronto became a normal, sober teenaged girl again and grew to care about others. Toronto became very loving, kind and caring towards others, especially Aiden Erendale. Toronto also holds insecurities about her past, but she gets through it with the help of her family and friends.
Appearance
Toronto has brown, medium-cut curly hair. She has blue eyes, which are hidden behind her big black glasses. Toronto normally dresses casually, especially around her home. However, her style of dress differs both when she needs to dress up for an event and back when she was a rebel teen. Toronto used to wear rebellious, punk or hipster clothes while she was in her rebel phase.
Gallery